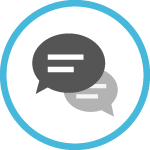 Information for General Practitioners
At Creating Connection, we value collaborative partnerships with General Practitioners that deliver a holistic service and ensure continuity of care for the patient.
You can refer patients to Creating Connection under The Better Access to Mental Health Care initiative. Patients referred by their GP under a Mental Health Care Plan are eligible for a rebate of $84.80 for up to 6 sessions. A review of a Mental Health Care Plan is required after six sessions by the treating GP, whereby up to another four sessions can be endorsed.
Our Psychologists provide written feedback to referrers regarding the assessment, treatment and progress of your patients. We welcome consultation and encourage you to contact us if you would like to discuss a treatment plan further.
Please click here for further information on the referral process as provided by the Australian Psychological Society, or here for information from the Department of Health and Ageing.
Information for Psychiatrists
Psychiatrists are not required to use a specific form or implement a Mental Health Care Plan if they wish to refer patients for psychological services at Creating Connection. The referral may be a letter signed and dated by the referring practitioner, which the Psychologist must receive prior to, or at, the initial consultation.
"When we are no longer able to change a situation, we are challenged to change ourselves"
- Viktor Frankl